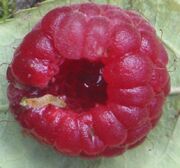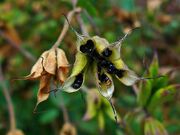 An aggregate fruit or etaerio is a fruit that develops from the merger of several ovaries that were separate in a single flower.
In contrast, a simple fruit develops from one ovary.
Not all flowers with multiple ovaries form aggregate fruit; the ovaries of some flowers do not become tightly joined together to make a larger fruit.
Aggregate fruits may also be accessory fruits, in which parts of the flower other than the ovary become fleshy and form part of the fruit.
Aggregate fruits include:
References
Edit
Community content is available under
CC-BY-SA
unless otherwise noted.